Take this 2 Day Trip from Sofia to Plovdiv which is almost 130 km from the Bulgarian capital city. This incredible place is well known for fabulous syenite hills located in the town.
---
---
The legendary hills are also called 'tapeta' and the place

 

is one of the most often visit places in the whole country. No wonder, the town with all its richness is really worth visiting and it would be a big shame to be in t Sofia and not take a chance to see Plovdiv.
---

However, this is not only a magical landscape that interests people from all over the world! The town of Plovdiv is famous for its legendary streets where many cultic scenes from best Bulgarian movies took place. Also, Plovdiv is the quintessence of Bulgarian architectural art! Next to beautiful, old houses on the Main Street you can find there this great, impressive building that each tourist just must see! This is the Ancient Theater.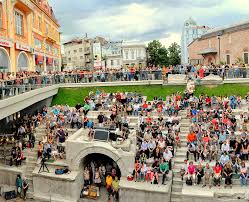 This enormous object is very important  monument from antiquity. The city of Plovdiv is worth visiting due to its historical meaning for whole Europe because this is the oldest inhabited city all over the continent. The tour includes also a ride by the Hoffman's Bridge which is also the oldest bridge in Europe. Its renovation lasted for the last 4 years and today apart of its age, it is considered to be also on of the dos beautiful bridges all over the world. Unquestionably, the city of Plovdiv has much to offer and since you are already in Bulgaria you should definitely not miss this opportunity and check it out!
---
Highlights:
See beautiful Plovdiv.
Visit the oldest theatre in the city – the Ancient Theatre.
Take a walk along the Hoffman's Bridge.
See amazing Bulgarian architecture.
---
We provide:
Door-to-door service.

Lunches.

4* hostel.

24h booking system.

24h information system.

Professional tour guide assistance throughout the journey.

Unforgettable experiences.
---
Check it out! Now!
---